Wholesale Golf Carts for Sale
Wholesale Golf Carts For Sale - Golf Courses Off Lease
Tidewater Carts is your #1 source for wholesale golf carts. We are a distributor of used and refurbished golf carts and parts in the USA. We purchase in volume and typically source our golf carts from northern states that have less hours and use.
We cater to small and large golf cart dealers. If you are a large dealer, we have a huge inventory to select from including as-is carts and refurbished carts. If you are new to the industry, we can walk you through the process. Minimum purchase is 10 golf carts.
We have truckloads of different makes and years of golf carts arriving weekly at our facility. We also refurbish golf carts for dealers to resell at our Columbia, South Carolina warehouse. Please view our golf cart inventory online to get an idea of what we carry.
Tidewater Carts is your one stop shop for discount golf carts, replacement parts and accessories. We specialize in Club Car, Yamaha and EZ-GO golf carts. We can dropship directly to your customer and assist with aftermarket extended warranties if needed.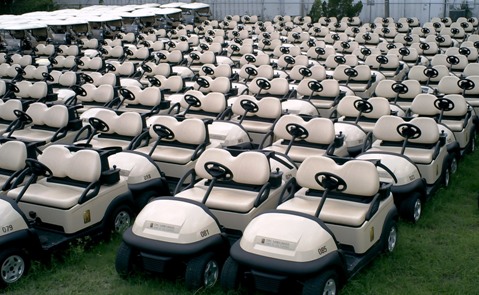 Wholesale Golf Carts For Sale in SC, GA, FL, WV, VA, MD, OH, TN, PA, AL, DE, MI, NY, NJ and beyond!
US DEALERS NEED TO PROVIDE
A copy of your State Retail License
Complete a SC Resale Certificate
INTERNATIONAL & EXPORT DEALERS
Tidewater Carts is an exporter and wholesale distributor of golf carts serving Hotels, Resorts, Hospitals, Governments, Airports, Theme Parks and Other Businesses.
We provide wholesale golf carts for sale in Mexico, Canada, British Virgin Islands, Dominican Republic, Costa Rica, Antigua, Puerto Rico, Jamaica, Martinique, Cuba and beyond. Shipments can be made by the pallet or on a 20 or 40ft container depending on your needs. Tidewater Carts can assist with shipping arrangements and freight brokers to make your transaction smooth and effortless.
Call Tidewater Carts at (803) 238-2250 or email us at sales@tidewatercarts.com
GENERAL WHOLESALE GOLF CART QUESTIONS
Tidewater Carts would be happy to provide you additional information about purchasing wholesale golf carts, or becoming a wholesale distributor for Tidewater Carts. We look forward to hearing from you today!
WHOLESALE GOLF CARTS – TIDEWATER CARTS