When you are getting ready to purchase a golf cart it is important to get familiar with the different makes and models of golf carts on the market today. Each golf cart model has their own selling points, so get familiar when them and make your choice based on how you will utilize your vehicle.
New and Used Club Car Precedent and Onward Golf Carts
About the Club Car Precedent Golf Cart
A cutting-edge design and reliable golf cart. Designed from the ground up with new materials, new technology and attention to every detail. Each Club Car on the market today is quick, responsive and has the IQ smart system. It is easy to understand why we say "See it. Drive it. Then you'll know."
Sports Car Handling and Suspension
Exclusive A-Plate independent suspension provides the industry's smoothest, most reliable ride with longer service life and lower repair costs during ownership. Superior vehicle control yields greater safety and longer tire wear. Also included is a double-ended rack and pinion steering provides the feel and control of power steering. Maintenance-free and smoother steering too. With the industry's tightest turning radius for great maneuverability and parking.
Lightweight Alumi-Core Chasis - Will Not Rust
The strength of a vehicle lies in its frame. This is one tough frame. Exclusive aluminum frame is more rustproof and corrosion resistant than any competing model. Ladder-style box beam design gives superior strength and improved handling and ride. Lighter weight modular design cuts energy costs and increases battery life while yielding double the torsional rigidity.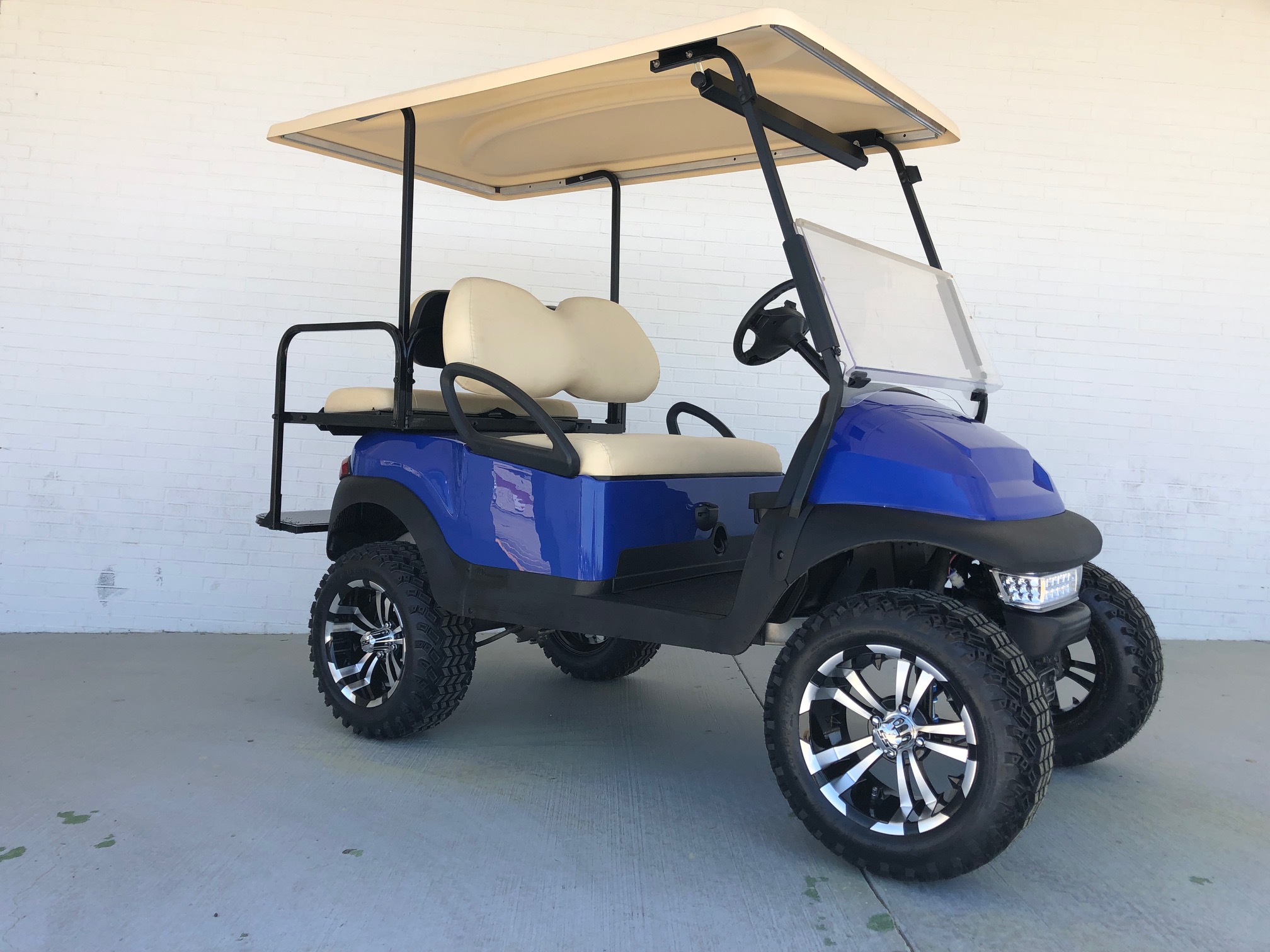 Factory MonsoonTop
Exclusive canopy drainage system eliminates standing water and flood-like effects at vehicle takeoff during those Arizona downpours. Interior handle increases comfort and safety for everyone, especially the passenger.
360 Degree Bumper Around Golf Cart
Club Car outthinks the competition again with a high-impact 360 degree bumper that cuts vehicle damage and increases trade-in value. Both front and rear are rated for 5 mph impacts.
48 Volt Battery System
Six-eight volt batteries anchor today's Club Car 48Volt system. Longer battery life, greater energy efficiency, and more power. They provide power and range up to 30% greater than the competition. System resistance is cut by a third, generating less heat and better electrical system reliability. Rate of discharge is reduced too.
IQ Technology On-Board Computers
Programmable performance and increased torque for best-in-class hill climbing. The Next Generation of golf cars created by Club Car, the industry's engineering leader.
Contact Tidewater Carts Superstore today for your next Club Car Precedent or Onward golf cart. Wholesale prices to the public and nationwide delivery to your door.