Club Car uses the On Board Computer or OBC to monitor and control functions of their golf carts. If it functions properly it controls the charging and the drive system. If the OBC detects a problem with the charging system or the drive systems it shut down. However, when the faults are cleared, the On Board Computer should reset and function properly most of the time. If the OBC does not clear the fault the controller will not power up or the solenoid will not engage.
If you disconnect the controller from the golf cart will cause a soft reset of the of the OBC when the battery power is removed. Once the battery powered is removed, the OBC internals will clear any faults. Once the controller is reinstalled, everything should work fine. However, if it doesn't you might determine the controller is bad, but not so fast, there may still be a problem with the OBC. You should try and manually reset the OBC to verify this isn't your problem.
(Note: If you have any (any) corrossion on or around the OBC or any wires leading to the OBC have corrossion or are burnt or darkly discolored due to heat - your OBC is most likely bad. However, your OBC may still be bad if everything appears to looks good visually, so you will need to reset and test.)
Easily Reset the Club Car Golf Cart OBC
Resetting the OBC must be performed in this order:
Key switch to off
Set forward/reverse to neutral
Put tow/run switch to tow
Disconnect the negative battery terminal from the battery pack
Put the tow/run switch to run
Put forward/reverse switch to reverse
Put key switch to on
Lock the throttle pedal down with a second set of hands or object
The reverse buzzer will sound and go off in approximately 30 seconds
Leave the cart like that for 5 min to cause the OBC to reset
Reconnecting the OBC into the system:
Key switch to off
Set forward/reverse switch to neutral
Put tow/run switch to tow
Reconnect the negative battery terminal from the battery pack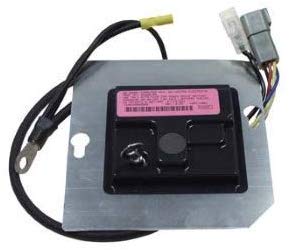 Once the OBC has been reset, the golf cart is ready for troubleshooting.
READ
Remember that there is a chance the OBC has failed and the reset did not fix the problem. This can be frustrating because you just went through all of the steps and want it to work. Tidewater Carts is not responsible for any malfuntions or problems that you incur directly or indirectly from folowing these procedures. Keep in mind that testing and troubleshooting should be done by trained and paid golf cart tech's.