In the spring of 2001, George W. Bush was beginning his first term as president, gasoline was $1.45 per gallon and we were playing with Gameboys while preparing to fit our personal music collections on an even smaller hand-held device. Between the dawn of a new millennium, huge technological advances and world-rocking events, change came hard and fast that year and the two decades since. Even economic visionaries would have been hard pressed to imagine the warp speed at which commerce as we knew it would evolve.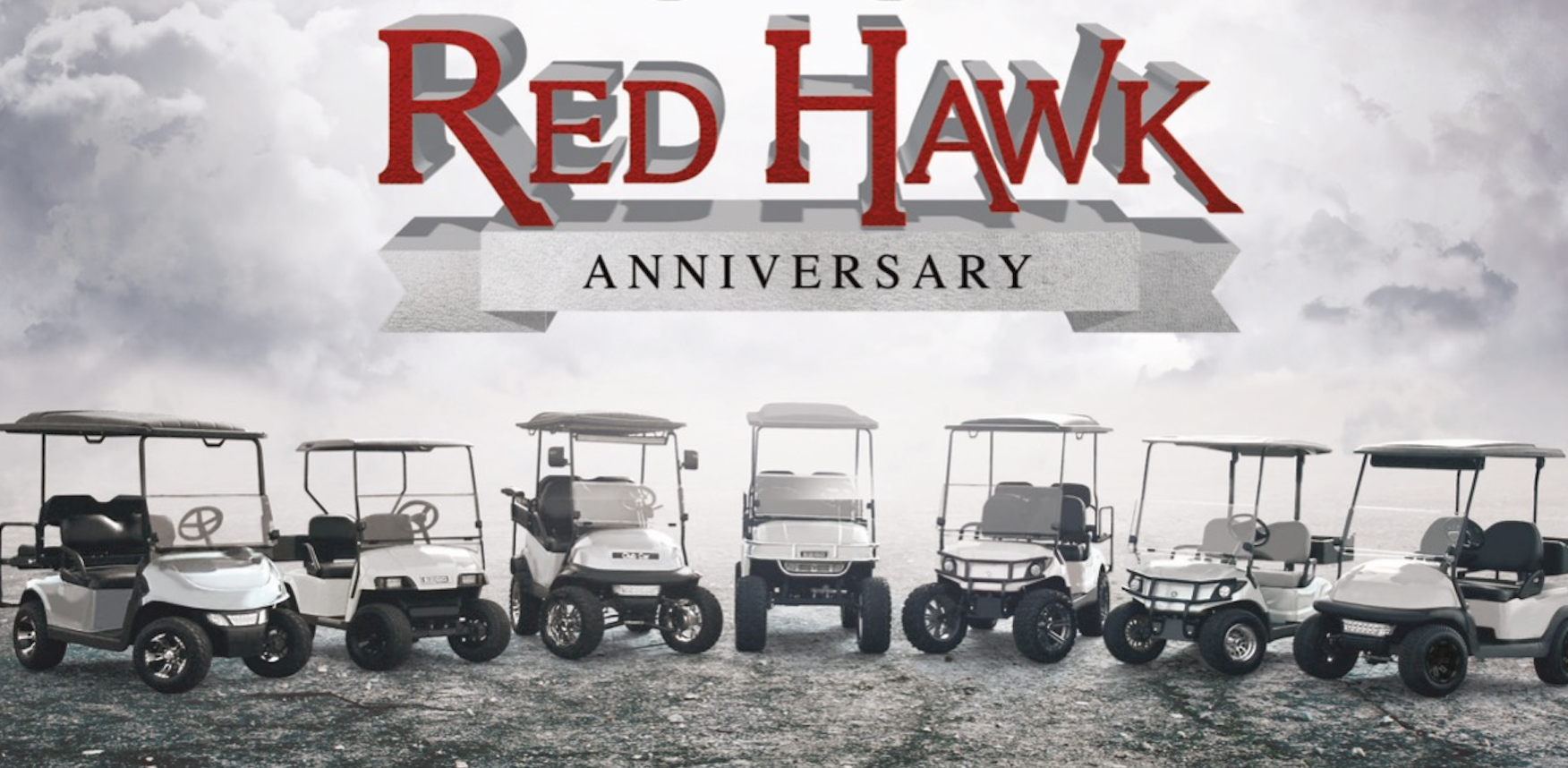 That same spring, on April 24, 2001, John Clough, the previous owner of Mid-Atlantic Equipment, a Yamaha distributor, and Gillet Boyce, Mid-Atlantic's operations manager, purchased the inventory from the Bruedan bankruptcy and Red Hawk was born. The plan for a quick flip of this inventory soon took on a life of its own, and Red Hawk has since grown into a major distributor of golf cart parts and accessories. The company was built on the premise of aligning their own internal processes with dealer needs and end-user wants. From the parts to the way they were offered, assembled, sold and delivered, Red Hawk committed itself to the ethos of Doing it Better. By pursuing constant improvement, they believed success would follow. Fast forward twenty years, several wars, two recessions and a pandemic, and that commitment remains stronger than ever.
A Dealer Mentality
Like many other sectors, the golf car industry has experienced a blurring of lines between the roles of manufacturer, wholesaler, distributor and retailer, yet Red Hawk remains steadfastly committed to its original business model of only selling to dealers. "For the most part, the golf car business isn't a DIY proposition," says Duffey Pitzer, Vice President of Sales. "To get the most satisfaction out of a vehicle, end users largely rely on the experts — those who engineer the parts, assemble them, understand their capabilities and limitations and know how to maintain them. Our dealers are a critical part of the supply chain, and we consider them our business partners."
The partnership angle can be an unfamiliar one to outsiders. A few months ago, a dealer called wondering whether Red Hawk could match a price quote on a part. They could not. Instead, the Red Hawk salesperson encouraged his customer to take the deal. Fair pricing, the company believes, does not always mean the lowest price, and faithful Red Hawk customers realize that there is more to the value equation. Three weeks later, the same dealer returned to Red Hawk to be his regular supplier of the part. As owner Gillet Boyce points out, "We fill an important niche in the market, and we do it with honesty, integrity and a drive for constant improvement. Because we are committed to doing it differently, our dealers appreciate that our success is tied together with theirs."
Several key employees started on the dealer side of the business, but not all "Hawks" (as Red Hawk employees refer to one another) came to the company with deep industry experience. The company hires more for a mindset than any one skill set. Human Resources manager Marisa Roe elaborates: "Everyone at Red Hawk is really in a customer service role, no matter what department they're in. It all boils down to creating satisfaction, and you contribute to that whether you're in product development, shipping or accounting." A strong sense of team spirit underlies Hawks' responses to inquiries about the company culture, yielding characterizations like "helpful," "respectful" and frequently, "like family." There is something powerfully consistent about the intangibles at Red Hawk. Turnover is low, morale is high, and because the idea of showing your customers that you're committed to them matters, business is strong.
An evolution of "Great Parts"
Commitment to continuous improvement extends to the Red Hawk line of replacement parts as well as the Admiral and RHOX brands added in 2009. Significant investment in product development enables the company to operate at its "OE quality at aftermarket prices" standard. One example, their former E-Z-GO brake drum had always been a big seller, but the product (along with all other aftermarket options) fell short of Red Hawk's standards for performance. A total redesign with a new factory and a year of tooling and rigorous testing finally yielded a brake drum, BRK-043, that the company was proud to release to the market with higher tensile strength and lower warranty returns.
The RHOX and Admiral lines represent the increasing importance of branded offerings in the golf car parts and accessory space. As the appeal of the vehicles broadens in the marketplace, the focus on performance and style increases accordingly. With end users becoming more discriminating, Red Hawk works with its dealers to meet higher consumer expectations in areas like packaging, point of sale displays and customer service. In addition, continuous improvements in technical support, web-supported order entry, payment and account information help drive both operational efficiency and end-user satisfaction.
The Challenges of Growth
As Red Hawk has grown — especially since the industry's boom in the socially-distanced revolution — the fear of losing touch with their customers has been a tremendous motivating factor for the sales team. In response, the company dispatched an outside sales team into territories across the country. Unlike most organizations where outside sales focuses on securing and closing deals, Red Hawk's outside team functions as the inside team's eyes and ears. Their boots on the ground provide valuable insights that can only come from face-to-face interaction in the dealers' showrooms. Management firmly believes that this unique understanding allows Red Hawk to offer superior solutions.
Space constraints have spawned additional changes. Outgrowing its 55,000 square foot Baltimore headquarters soon after a 2012 expansion, Red Hawk reacted by drawing up plans for a regional distribution network. Warehouses were added in Jacksonville, Florida (2016), Dallas, Texas (2018) and Indianapolis, Indiana (2020), significantly increasing the company's ability to fulfill orders quickly and accurately. From the start, it was recognized as critically important that these regional warehouses were "on brand." The Hawks in these locations are recruited, trained and encouraged in the same mold as their headquarters colleagues. "First we hire the right people," says Director of Warehouse Operations, Don Mauldin. "Then we empower them to contribute to our culture of customer service, internally and externally. We all depend on one another."
Such interconnectedness is evident in the pride Red Hawk employees take in their collective purpose. In the late fall of 2020, an "all-Hawks" email circulated, noting that the Baltimore location had just surpassed a company record for shipping orders. The email yielded an overwhelming number of "reply-all" responses. From accounts payable clerks to purchasing managers to warehouse employees a thousand miles away, the milestone was universally acknowledged as the ultimate group effort. CFO Karen Parks explained it like this: "Everybody here understands that they're part of a bigger picture. As the rest of the world becomes even more automatic and impersonal, we strive to become the opposite."