A major golf car brand committed to workforce development.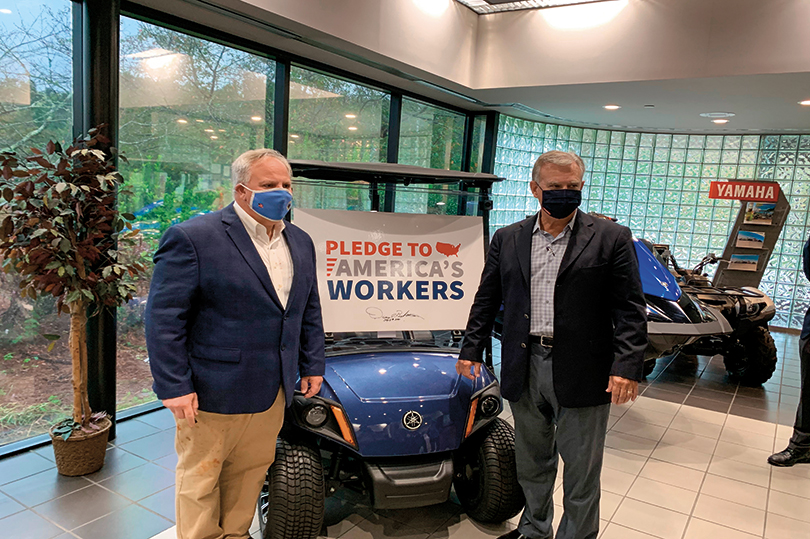 Yamaha Golf-Car President Tom McDonald met recently with Secretary of the Interior David Bernhardt at the Yamaha Motor Manufacturing Corporation (YMMC) facility in Newnan, Ga. During the event, Mike Chrzanowski, President of Yamaha Motor Manufacturing Corporation (YMCC), and Ben Speciale, President of Yamaha U.S. Marine Business Unit, signed the President's Pledge to America's Workers, reinforcing Yamaha's commitment to workforce development within its U.S. manufacturing facilities.
"It's an honor to stand with our Yamaha family as we work together to develop a stronger workforce. The jobs created through Yamaha facilities in Georgia make a positive impact on our state's economy and contribute to the growth of the outdoor industry overall," McDonald said. "The golf industry supported $191.9 billion in total annual activity in 2016, including 1.9 million jobs and 58.7 billion in wages and benefits. The U.S. is experiencing record golf participation in recent months with rounds played up 14% in June, 19.7% in July and industry experts expect August results to show similar increases when posted next week. People love the great outdoors with many picking up the game of golf for the fun, exercise and comradery that it brings to our hectic lives. As 'One Yamaha,' we will continue to invest in the training and best practices necessary to create successful manufacturing career paths within each of our divisions. Our technician training facility in Kennesaw, Ga. ensures that same success for our Dealers and Distributors across the country."
The Pledge to America's Workers is an initiative that stemmed from the National Council for the American Worker, which was established on July 19, 2019. The council leads a national strategy for training and re-training workers in high demand industries, such as recreational manufacturing. To date, more than 430 companies have signed the pledge contributing to more than 16 million new training opportunities for American students and workers over the next five years.