When a country club came calling, a fabrication company tried its hand at something different.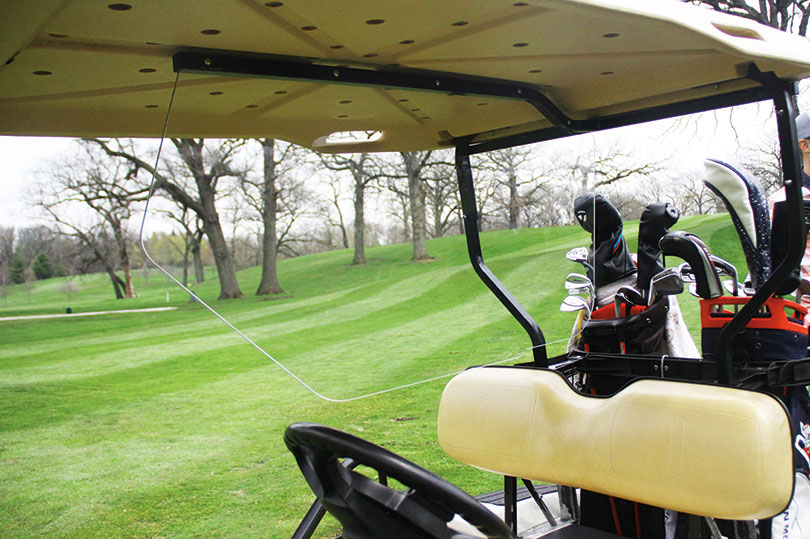 Like many golf courses around the country, Twin Lakes Country Club in Wisconsin saw dwindling tee times as social distancing became the norm. General manager Chad Cantwell saw a particular problem with golfers getting around on the course.
"We want to eliminate the fear from the golfers' point of view," he told ABC affiliate WKOW. "Then, as a golf course owner, the problem was we don't have enough golf carts for everybody to ride in their own cart."
So he reached out to friends at another local business, Five Star Fabricating. It typically deals in products for race cars, but business was slow with all the racing tracks shut.
"With all the tracks closed this summer, our sales have been in sharp decline," vice president Garrett Schultz told WKOW.
Cantwell explained the problem, and the Five Star got to work on what became known as the Safe Wedge – a clear layer of protection between people in the same car.
"In less than two hours, (they) had a prototype built," Cantwell told WKOW. "Now we've got 50 of the 75 golf carts installed and the golfers are loving them."
The concept is straightforward, Shultz explained.
"The partition here is hard coated clear polycarbonate, which is pretty close to a bulletproof material, as well as these metal welded brackets to install the unit to the cart itself," he said.
After developing them for the country club, they started producing more. Soon they'd made sales in six states. The product retails at $159.
"Play is up. Smiles are up. More importantly beer sales are up," Cantwell told WKOW.
It's also been big for Five Star.
"This has been a great project to keep a lot of our employees employed and working hard as racing sales have declined," Schultz said.